Brendan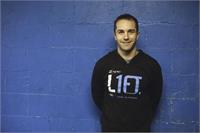 Education & Credentials:
Bachelor of Kinesiology (BKIN)
Certified Strength and Conditioning Specialist (CSCS)
Triathlon Community Coach
Ready to Race Cycling Coach Special
Interests:
Running Form and Speed Training
Running Gait Analysis Swim Stroke Improvement
Personalized Running Coaching
Personalized Triathlon/ Multisport Coaching
Strength Training for Running, Triathlon and Endurance Events
Individual and Group Strength Training for all your athletic and fitness goals
Health and Fitness Consultation and Accountability Sessions
About Brendan:
Brendan is one of our senior staff members and has been with Level 10 for 10 years. Although, he has competed at a high level in many sports and is highly effective in training any athlete or any individual his expertise is in training endurance athletes. Currently he coaches Running and Triathlon both with the Level 10 Lightning Team as well as the Regina Multisport Club Youth Team. If you are a runner or triathlete or if you want to find out how to become one then he is someone you need to see.
Brendan instructs the following:
Tuesday:

Lead by Brendan Mackenzie who is a certified cycling and triathlon coach. With great energy and music that everyone loves to work hard to this spin is a can't miss! Not only will you work hard, sweat and have fun, but you will also see your fitness improve with each class.

Thursday:

In the spring and summer months Brendan offers those who want to get outside and run the chance to do so during the workout. Don't worry if you just come for the spin. Brendan splits the class in two groups you get what you came for!
The Spin and run session is approx 45-50 min
The stretch portion is approx 10-15 min




The Focus of this program is to improve run speed and fitness for local running and triathlon races.

Key Races: Royal Regina, Icebreaker, Moose Jawg, Spoke'n Hot and Echo Triathlon, Great White North Triathlon and Queen City Marathon.

Tuesdays and Thursdays 5:30-6:45 am at Douglas Park Track

May 2nd - Sept. 7th

*Weekend long run programmed but not coach led.

Full Package - 2 times per week

Cost: $275+gst

1 Day a week Package

Cost: $195+gst

Limit 15 people




This class is designed for the Triathlete, Runner or any Endurance athlete out there who is looking at improving their athletic performance through specific work in the gym. This is for men and women and is designed to compliment all of your training outside the gym to prevent overtraining and maximize your training results.